Whiteaker Yacht Sales
1035 Riverside Drive
Palmetto, Florida, US, 34221
Tel:941-776-0616 or 941-704-4698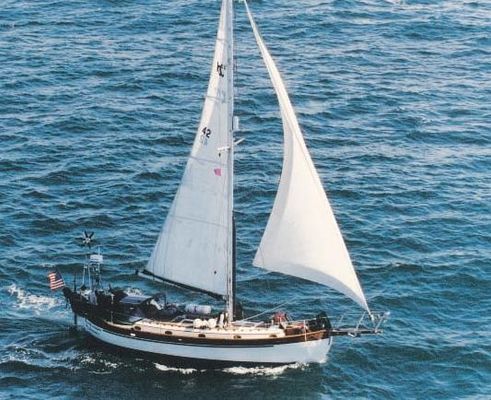 1989 Hans Christian 41T
Annapolis, Maryland
See this beautiful classic cruiser at the
2019 BLUEWATER BROKERAGE BOAT SHOW
0ctober 10-14 at Port Annapolis Marina
Call us for complete details!
This is much more than a sailboat - this is a Little Ship. "Laughing Buddha" is one of Hans Christian's "Traditional Series" boats. The Hans Christian Traditional Series are recognized around the world as the quintessential cruising boat.
"Laughing Buddha" is a great example of this popular boat. Her "one and only owners" have always given her great care her entire life. She has received EXTENSIVE RECENT UPGRADES including NEW Engine and Drive Train, NEW Refrigeration & Stove, and NEW Watermaker and LOTS MORE. Look over the full specifications and review all the MANY recent upgrades and all the MANY extras that make this a very special opportunity to own a exceptional boat.

Exterior and Interior Details
INTERIOR/EXTERIOR TEAK
RESTORED/SANDED/VARNISHED(2016)
TEAK AND HOLLY SOLE
FIXED INTERIOR SURFACES
REMOVABLE INTERIOR PIECES (HATCHES, SCREENS AND FRAMES)
COCKPIT SEATING, SOLE AND PUSHPIT GRATE
CAP RAIL, GRAB RAIL, COCKPIT COMBING
ALL EXTERIOR TEAK SANDED, SEALED AND COATED (with JUSTTEAK)
CUSTOM INTERIOR (2016)
NAVIGATION STATION
PANTRY (CLOSET AND DRAWERS)
CABINET IN MASTER BERTH
TWO TOOL DRAWERS
REPLACED FORMICA LAMINATE UPPER CABIN SIDES AND SALON COUNTERS
INSTALLED STARON GALLEY COUNTERTOPS
REMOVED, POLISHED, REBEDDED ALL PORTLIGHTS
REFINISHED AND PAINTED HEADLINER
GALLEY
FORCE 10 OVEN, BROILER, 3-BURNER RANGE NEW (2016)
BD50 DANFOSS CUSTOM BUILT DUAL COLD PLATE FREEZER (2016)
ISOTHERM AC-DC CONVERTERS (ONE FOR EACH-REFER AND FREEZER) (2016)
SINK FAUCET FIXTURES (2016)
BD35 DANFOSS (MINI-FREEZER) SPILLOVER REFRIGERATOR (2009)
4 CU FT STAINLESS FREEZER AND ENHANCED INSULATION (2000)
THREE 22 LB ALUMINUM PROPANE TANKS
ONE 6 LB ALUMINUM PROPANE TANK FOR BBQ 1.4 GAL
CUSTOM TEAK BUILT-IN 54-JAR SPICE RACK

Boat Systems
WATER SYSTEM
REMANUFACTURED SPECTRA CAPE HORN EXTREME RO SYSTEM (NEW 2016)
TWO LAVAC HEADS (2005)
S/S WATER TANK REPLACED WITH POLYETHALENE TANK (2002)
FOUR INDIVIDUAL 6-GALLON POTABLE WATER JUGS
ENGINE AND FUEL SYSTEM
BETA 60 HP DIESEL ENGINE (2017)
FOUR 5-GALLON DIESEL JERRY JUGS (2016)
FOUR 5-GALLON GASOLINE JERRY JUGS (2016)
TWO STEEL DEISEL TANKS 120 GAL (FRESHLY SCRUBBED 2015)
20 GALLON DEISEL DAY TANK GLASSED INTO BILGE (2002)
BAJA FUEL FILTER
ENVIRONMENALSYSTEMS
WEBASTO CENTRAL HEATER DEISEL) (1990)
CUSTOM DUCTING AND FOUR HEATREGISTERS (1990)
2 GLACIER BAY ARTIC AIR CONDITIONING UNITS
FOUR 8"HEAVY DUTY FANS ON CUSTOM SS MOUNTS
FIVE LED ALPENGLO MARINE HEADLINER LIGHTS ELECTRIC ICE-EATER
Electrical/ Electronics, Communication, Navigation
ELECTRICAL/ELECTRONICS
HONDA GENERATOR (2016)
BLUE SEAS BLADE FUSE BLOCK WITH 12 CIRCUITS (2016)
BLUE SEAS DEISEL/WATER/WASTE LEVEL SENDER (2016)
NMEA 2000 ACTISENSE ENGINE DATA SYSTEM (2016)
NOLAND ENGINEERING N2K ANALOGUE TO DIGITAL CONVERTER (2016)
AIR MARINE WIND GENERATOR (UPGRADE 2006--BLADES NEW 2017)
FOUR 90W SOLAR PANELS
MPPT SOLAR REGULATOR (2016)
ELECTRICAL MANAGEMENT SYSTEM (EMS) INVERTER (2014)
SIX AGM BATTERIES, 150 AMP HR (2014)
220/240 SHORE POWER SYSTEM OUTLETS AND BATTERY CHARGER (50A) (2014)
110/120 SHORE POWER SYSTEM OUTLETS AND BATTERY CHARGER (50A)
INTERNATIONAL SHORE POWER CHORDS
CABLE TV SERVICE INLET
240V AND 110V AC OUTLETS BELOW (2014)
XANTREX ALTERNATOR CONTROLLER
AMPLE POWER SAR V3 ALTERNATOR AND CONTROLLER (SERVICED 2003)
AMPLE POWER BANK MANAGER II (SPARE)
BLUE SEAS DC AMMETER 0-300 AMP (2014)
BLUE SEAS VESSEL SYSTEMS MONITOR (2014)
BLUE SEAS BATTERY TERMINAL TEMPERATURE SENSOR (2014)
THREE ALTERNATORS (120 AMP, 140 AMP, 295 AMP)
COMMUNICATION SYSTEMS
RAYTHEON APELCO VHF RADIO (SERVICED 2016)
SGC SMARTUNER HF/SINGLE SIDE BAND RADIO (SERVICED 2016)
HF/SSB INSULATED BACKSTAY ANTENNA
KISS-SSB MARINE RADIO GROUND PLANE (2015)
OUTBACKER HF/SSB ANTENA
TWO BOSE SPEAKERS
NAVIGATION
RADAR SYSTEM (INSTALL 2017)
AUTOMATED INFORMATION SYSTEM (AIS INCLUDING ANTENA) (2015)
CPT WHEEL PILOT SYSTEM (MOTOR AND AUTOPILOT CONTROL KIT) (2016)
WH AUTOPILOT SYSTEM (ELECTR, MOTOR CONT, FLUXG, CABLES) (2016)
REMANUFACTURED HYDROVANE WIND VANE (2016)
MARETRON DEPTH/SPEED/TEMP N2K SYSTEM (2016)
MARETRON WIND/WEATHER STATION N2K SYSTEM (2016)
N2K CABLES, CONNECTORS, AND TERMINALS(2016)
MARETRON COLOR DISPLAY, BLACK BOX SINGLE ENDED CORDSET (2016)
RICHIE POWERDAMP PEDESTAL COMPASS
SMALL BUSHNELL BINOCULARS
ASSTD DIGITAL CRUISING SOFTWARE
ASSTD PAPER CHARTS AND CRUISING GUIDES
PLOTTERS AND DIVIDERS
WEEMS AND PLATH HAND BEARING COMPASS
Deck, Hull, Sails, Rigging, Ground Tackle
DECK AND HULL
PORT AND STARBORD MAST BOXES (2016)
PROPANE TANK BOX (2016)
PUSHPIT GENERATOR BOX (2016)
LOWER DECK TEAK REMOVED, GLASSED IN NON-SKID (2016)
ENTIRE BELOW WATERLINE PEELED/RELAMINATED VINYLESTER RESIN (2000)
CUSTOM HARD DODGER WITH ZIPPERED VYNAL ENCLOSURE (2001)
TOPSIDES AND GLASS DECKS RESTORED AND PAINTED WITH ALLGRIP (2008)
BOWSPRIT REPLACED; BENGU YETI TIMBER, FIBERGLASSED AND PAINTED WITH ALLGRIP (2013)
UPPER DECK TEAK RESEAMED, SCREWS REPLACED (1998)
CUSTOM STAINLESS STEEL
STERN ARCH (1990)
RADAR MOUNT
OUTBOARD/MOB RETREIVING ARM
WIND GENERATOR MOUNT
ADDED OUTBOARD MOUNT (2016)
INTEGRAL BIMINI STRUTS/SOLAR PANEL MOUNTS (2016)
INTEGRATED SEARCH LIGHT MOUNT (2016)
NEW LADDER AND MOUNT (2016)
ADDED PUSHPIT LIFERAFT STORAGE/LAUNCH(2016)
WINDLESS MOUNT 2016
HARD DODGER HANDRAILS (2001)
BOWSPRIT BOLLARD (2016)
RIG
GAURHAUER TRAVELER AND SUPPORT BEAM (2016)
GAURHAUER BLOCKS (2016)
GENOA AND STAYSAIL ROLLER FURLING (ALADO) (2015)
MAINSAIL REEFING SYSTEM (INSTALL 2017)
MULTIPLE SINGLE, DOUBLE, AND TRIPLE ROPE CLUTCHES
MAST PULLED AND PAINTED WITH ALLGRIP, REPLACED HARDWARE (2008)
TIDES LOW-FRICTION MAST SAIL TRACK (2008)
ABI FOLDING MAST STEPS
FWD MAST TRACK AND CAR FOR DOWNWIND POLE
ADJUSTABLE RUNNING BACKSTAYS WITH GAURHUER BLOCKS (1992)
DOWNWIND POLE AND MAST CAR
FULL COMPLIMENT OF BARRIENT TWO-SPEED, SELF-TAILING WINCHES
FULL COMPLEMENT OF WINCH HANDLES
SAILS
150% MAX ROACH, FULL-BATTEN MAINSAIL
DELRIN BATTON FITTINGS (2016)
ROLLER-REEFING STAR REACHER GENOA (SACRIFICIAL AND LUFF NEW 2013)
ROLLER-REEFING STAYSAIL (SACRIFICIAL AND LUFF NEW 2013)
FULL RADIAL ARC ASYMETRICAL SPINAKER
STORM TRISAIL (NEW LUFF 2016)
STORM JIB GAILSAIL-LIKE MOD (2016)
GROUND TACKLE
100 METERS 3/8 BBB CHAIN (REGALVANIZED 2016)
50+ METERS NYLON AND CHAIN RODE
DANFORTH FORTRESS FX 55 ANCHOR
CQR 35 ANCHOR
FISHERMAN 50 LB ANCHOR
BRUCE-STYLE 66 LB ANCHOR
MAXWELL 2200 ELECTRIC ANCHOR WINDLESS
100 METERS NYLON RODE
MAXWELL 2200 WINDLASS (2000)
Canvas and Cushions
CANVAS AND CUSHIONS (CUSTOM MADE)
MAIN SALON, NAV STATION AND AFT SETEE (2016)
PADDED COMPRESSION POST COVER (2016)
SUNBRELLA STACK PACK MAIN COVER WITH REEFING SYSTEM (2016)
STARON BIMINI (2016)
STARON AWNINGS (2016)
PHIFERTEX MESH LEE CLOTHS (2016)
SUNBRELLA WINCH COVERS (2016)
SUNBRELLA HELM COVER (2016)
SUNBRELLA BEANBAG COVERS (2016)
Safety Gear and Tender
SAFETY EQUIPMENT
6-MAN LIFERAFT (RECERTIFIED 2016)
PUR-6 EMERGENCY WATER MAKER (SERVICED 2016)
CLASS B EPIRB (NEW BATTERY 2016)
MAN OVERBORD MODULE (MOM 8-A) (SERVICED 2016)
CREWFIT INFLATABLE LIFE PRESERVER (SERVICED 2016)
TWO PLATISMO INFLATABLE LIFE PRESERVERS (2016)
FLARE KIT (RESTOCK 2017)
402 EPIRB (PURCHASE 2017)
GALERIDER PARABOLIC DROGUE
FIORENTINO PARA SEA ANCHOR
350' 5/8in SEA ANCHOR/DROGUE/STERN ANCHOR LINE MOUNTED ON SS SPOOL
EDSON EMERGENCY MANUAL BILGE PUMP
JABSCO REMOTE CONTROL SEARCHLIGHT
COLLISION MAT
FIRE EXTINGUISHERS
LIFESLING OVERBOARD RESCUE SYSTEM, BLOCK AND TACKLE, HARD CASE
TWO USCG TYPE LIFE PRESERVERS
TWO HARNESSES WITH THREE TETHERS
2 SETS ASCENSION SHOULDER HARNESSES WITH TETHERED CARIBINERS
AQUALARM BILGE PUMP CYCLE COUNTER
MULTIPLE RULE 3200 ELECTRIC BILGE PUMPS
BLIPPER RADAR REFLECTOR
BRONZE SHIPS BELL
DAY SIGNALS--ANCHOR AND STEAMING
SMOKE DETECTOR
DACRON JACK LINES
OMEGA THROW ROPE
WEST MARINE THROW ROPE

TENDER
YACHTSMAN RIB DINGY; SEAT, INFLATER, OARS, ANCHOR AND RODE (2016)
POWERTECK 6 HP OUTBOARD MOTOR AND FUEL TANK (2016)
SUNBRELLA DINGY COVER (2016)
EXTRAS
OTHER
BOAT HOOK NEW 2016
DOCK LINES
1" LEXAN WEATHER HATCH BOARDS
TEAK HATCH BOARDS AND LOUVERED COMPANIONWAY DOORS
FOUR FENDERS
QUEEN SPRING MATTRESS IN MASTER BERTH
FORCE 10 BBQ
COMPLETE SET OF SIGNAL FLAGS
TWO PORTABLE VHF TRANSCEIVER WALKIE-TALKIES
BRASS 7"" ENGINEERS LAMP
BRASS TRAWLER LAMP
LARGE COLLECTION OF TROLLING LURES WITH FISHING GEAR
HAWAIAN SLING SPEAR
DIVING HOOKA RIG
ASSORTED POWER TOOLS (22OV/110V)
ASSORTED GALLEY FLATWARE, STEMWARE, DISHWARE, ETC
ASSORTED SPARES AND BENCHSTOCK
Owner's Comments
"We are the original owners of this boat. Every aspect of it has received our personal attention. We have kept a host of documents and manuals for the next owners."
Disclaimer
Owner's personal items not listed here are not a part of the sale. Details of this vessel are offered in good faith but we cannot guarantee or warrant the accuracy of this information nor warrant the condition of the vessel. While efforts are made to keep this listing up to date, information provided at the time of listing is subject to change if the vessel is on the market for an extended time. A buyer should instruct his agents, or his surveyors, to investigate such details as the buyer desires validated. This vessel is offered subject to prior sale, price change, or withdrawal without notice.
Additional Contact Information
SHOWINGS BY APPOINTMENT
Available for co-brokerage on 50/50 basis. Brokers outside Florida contact us for full details.